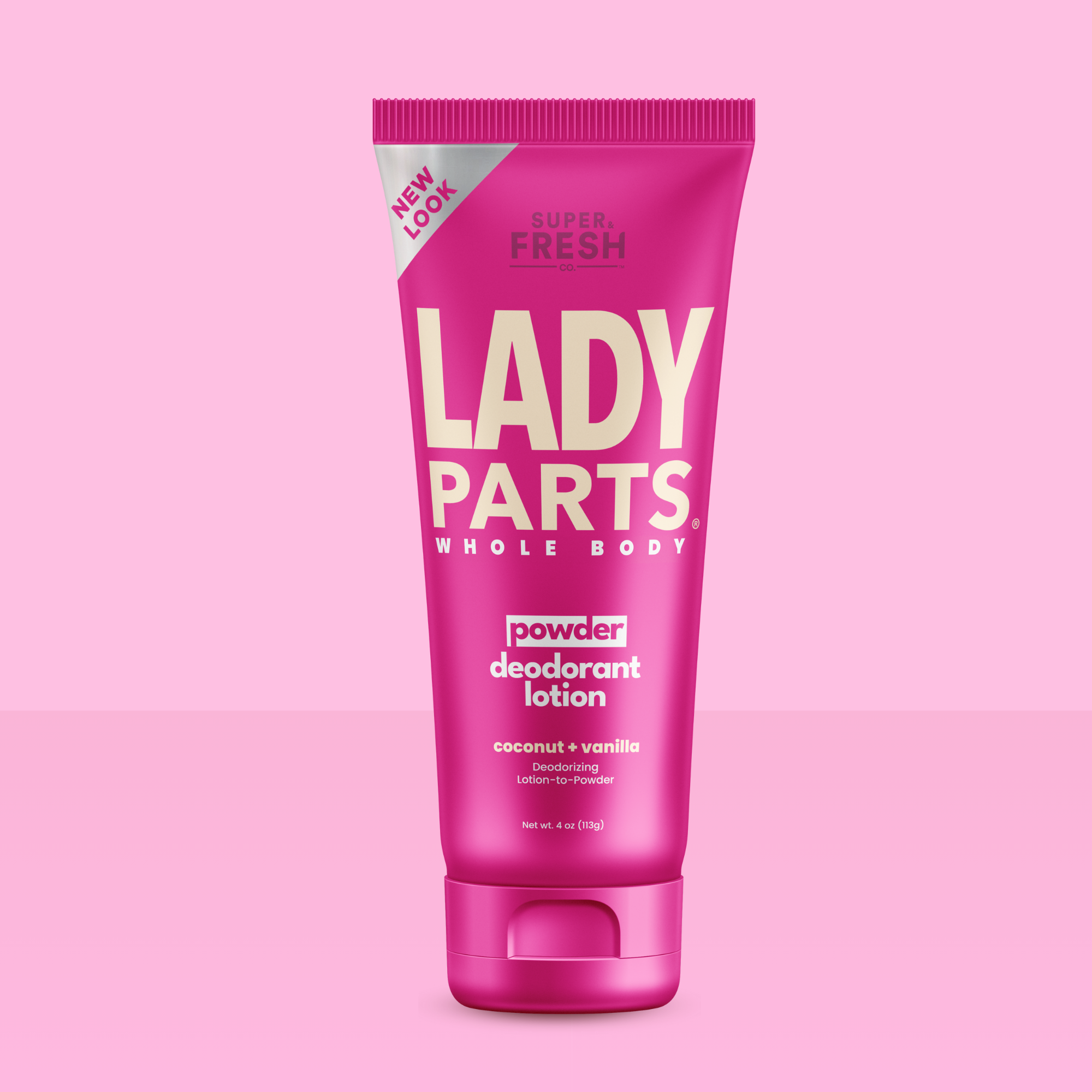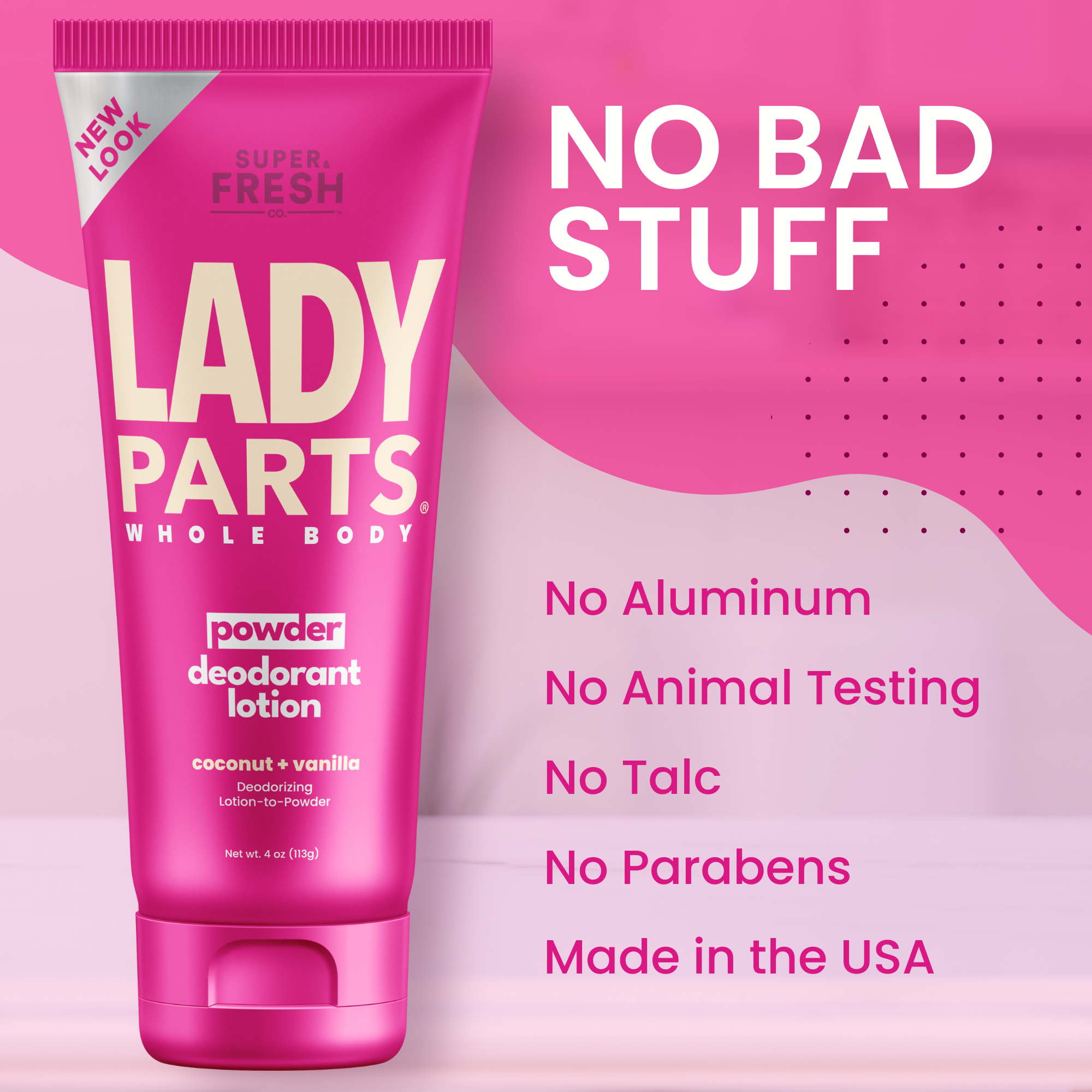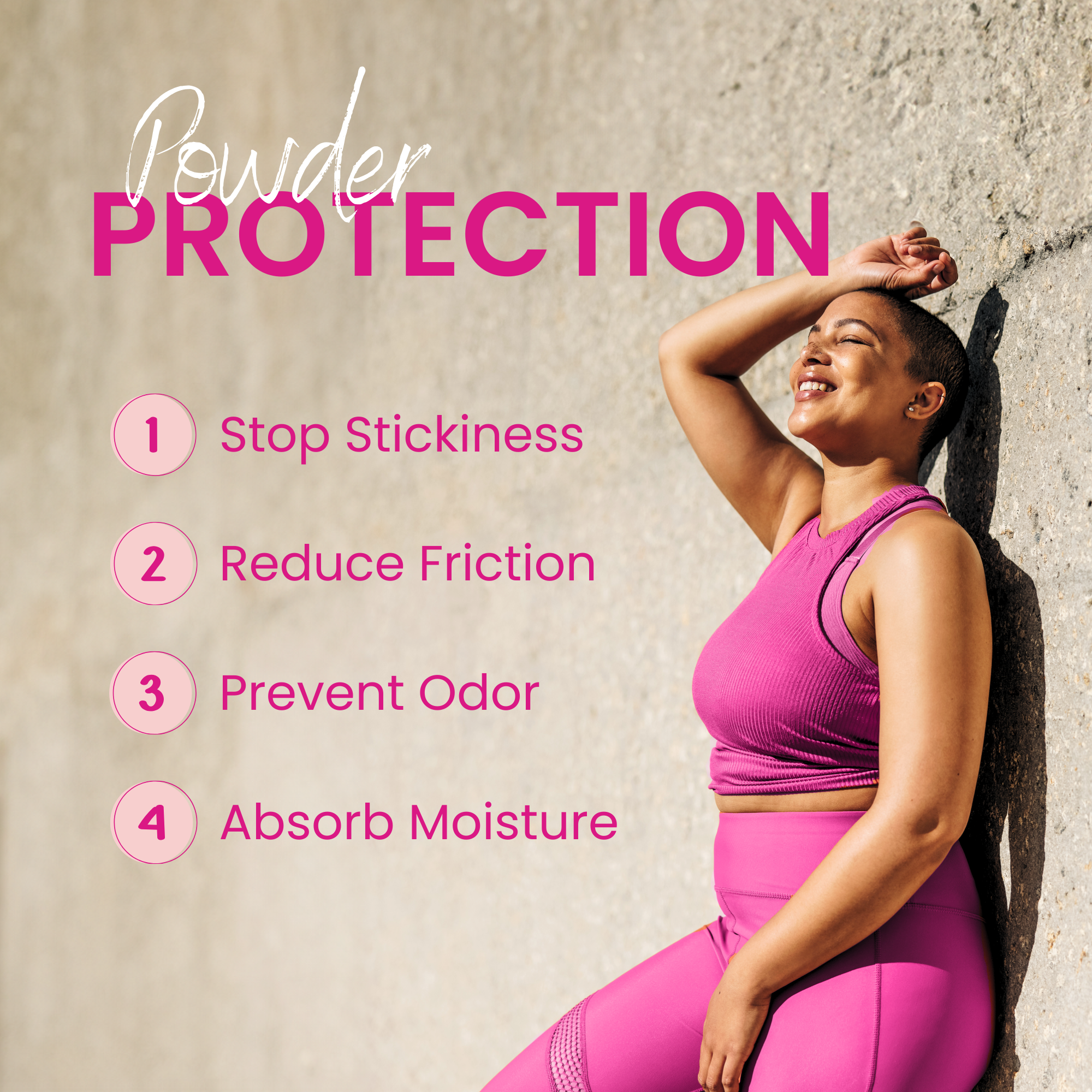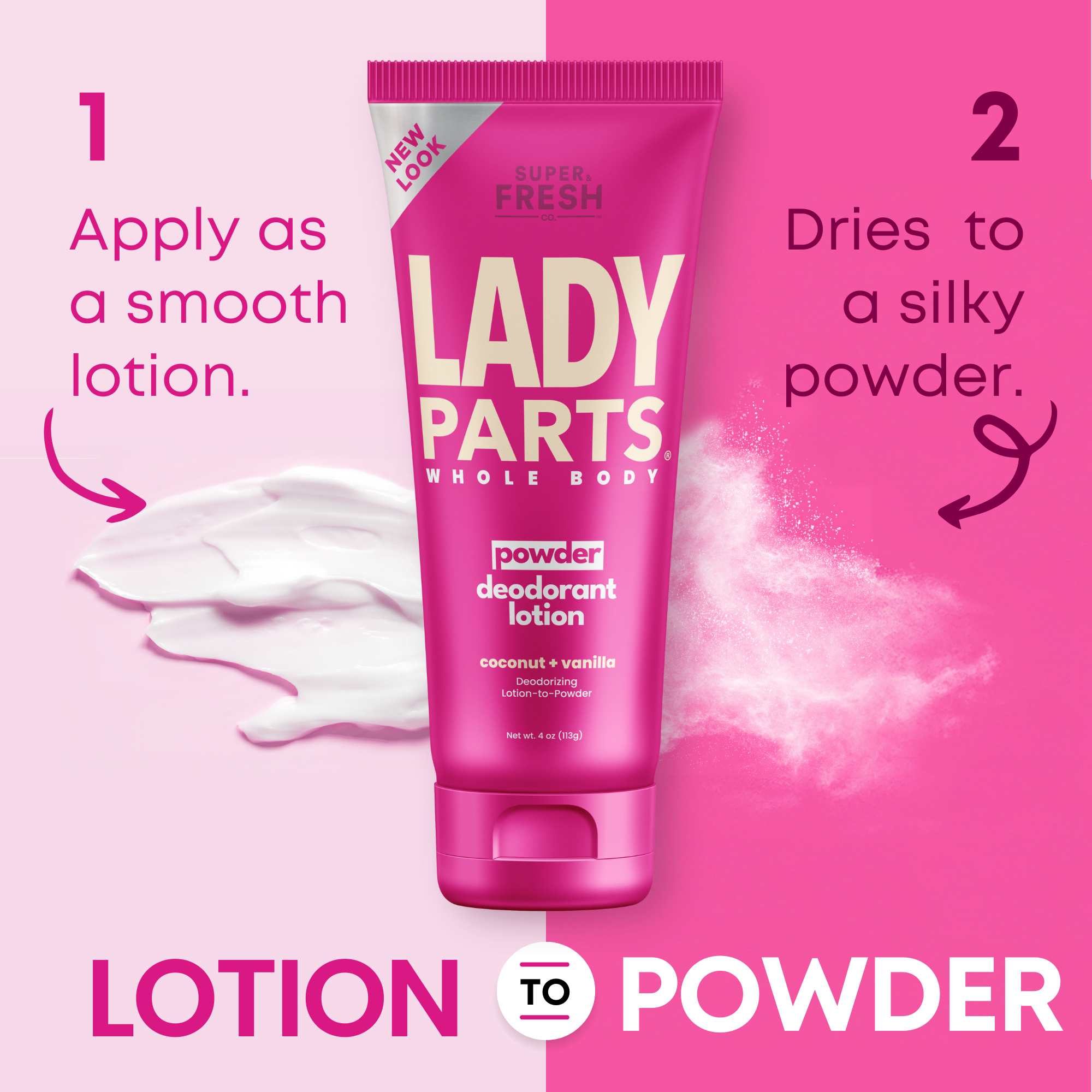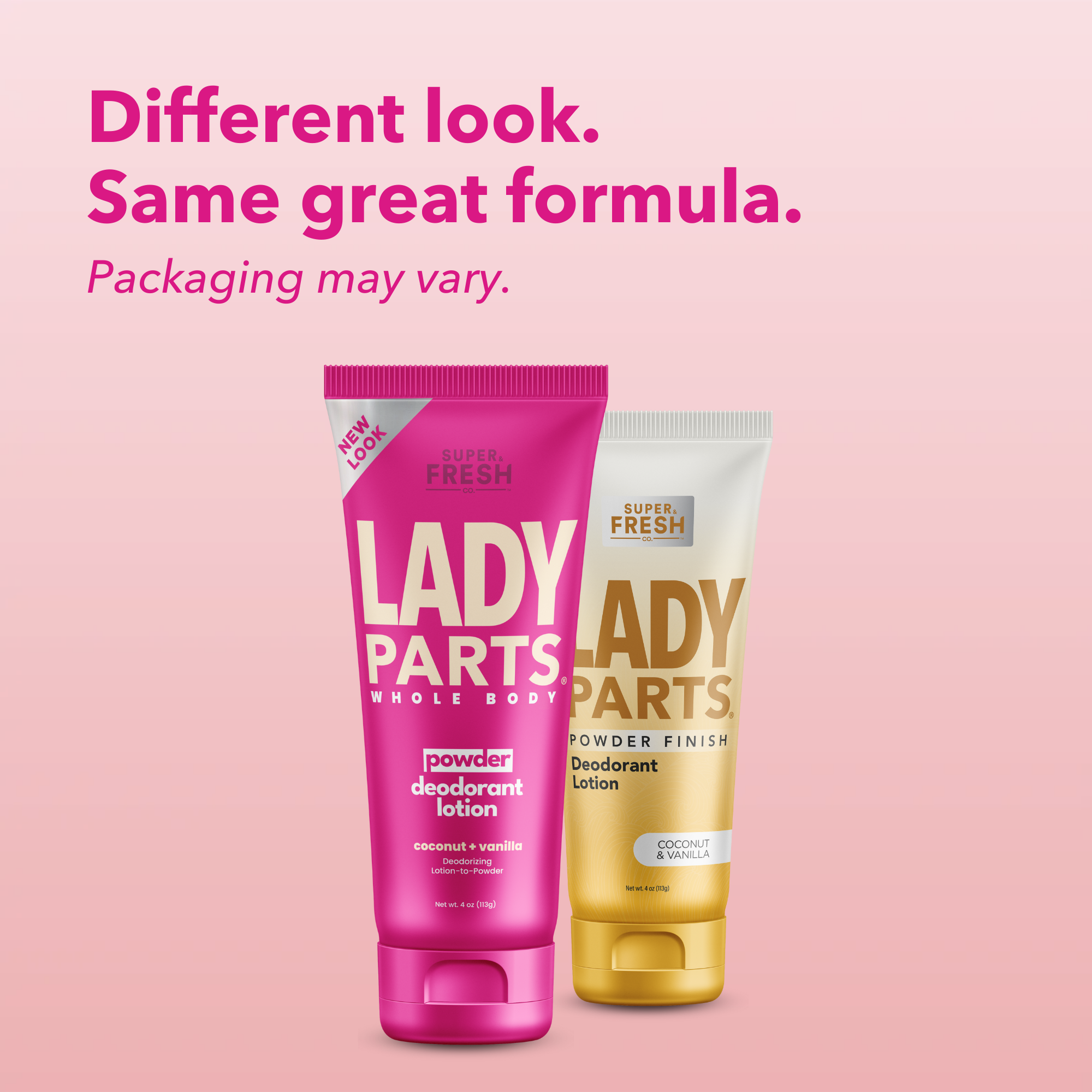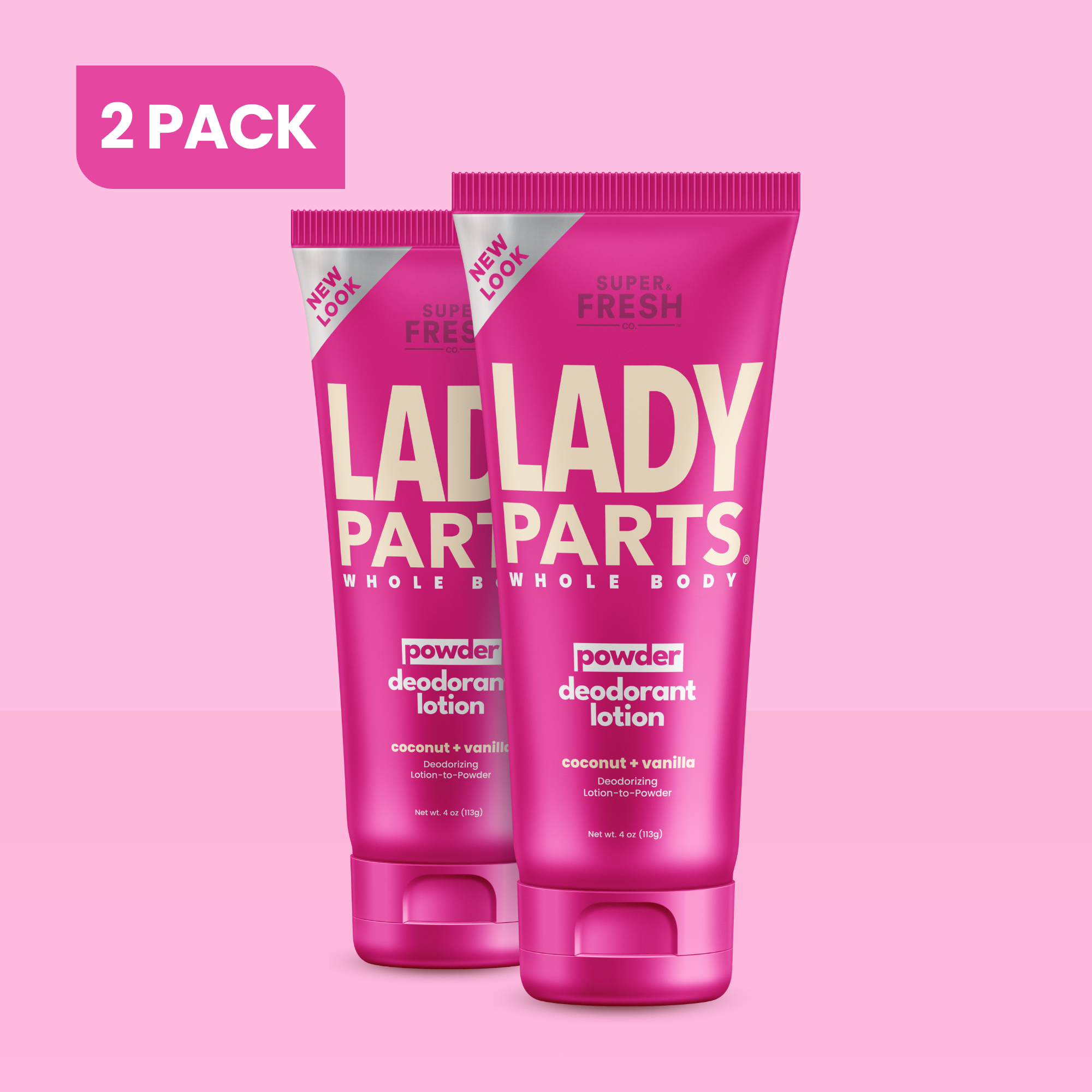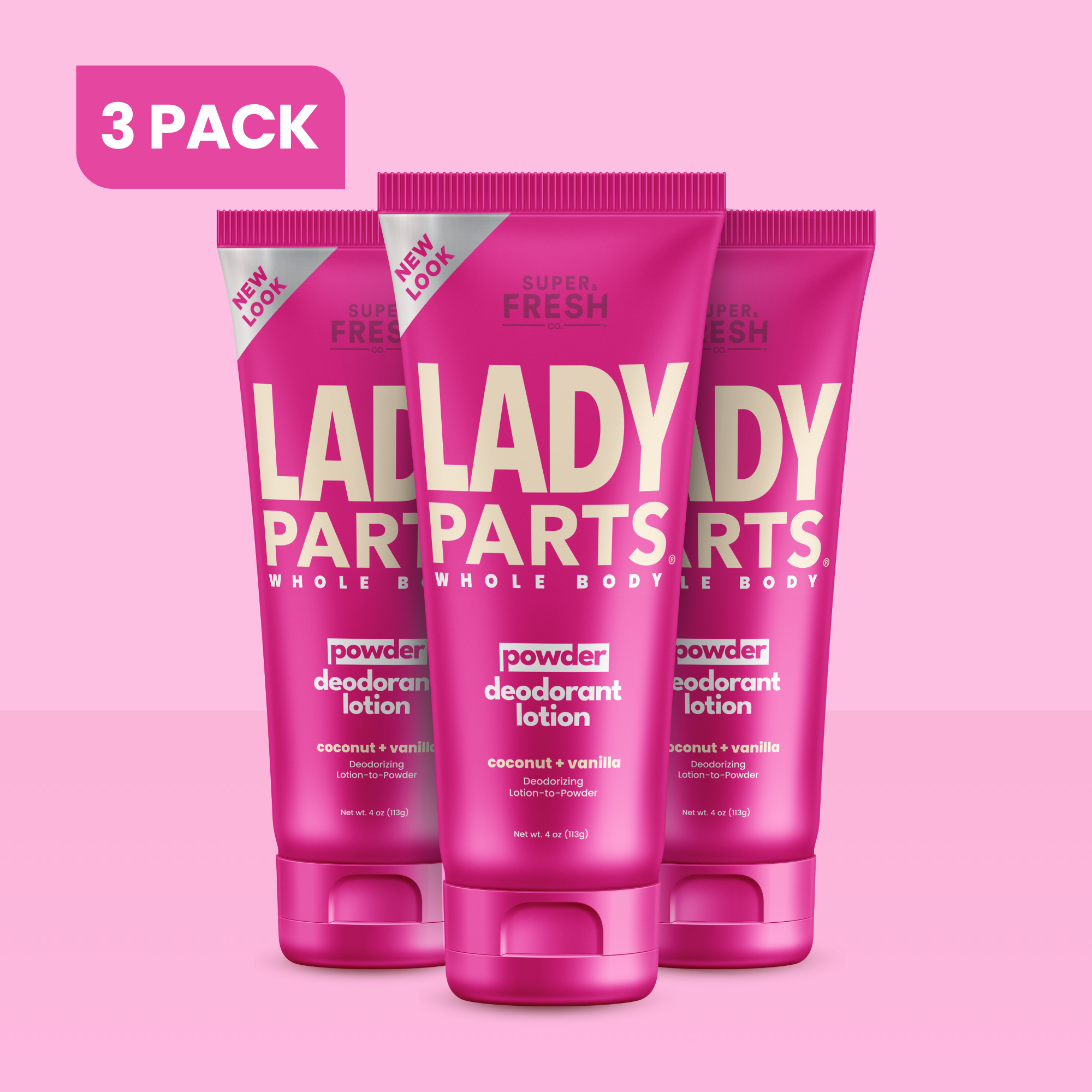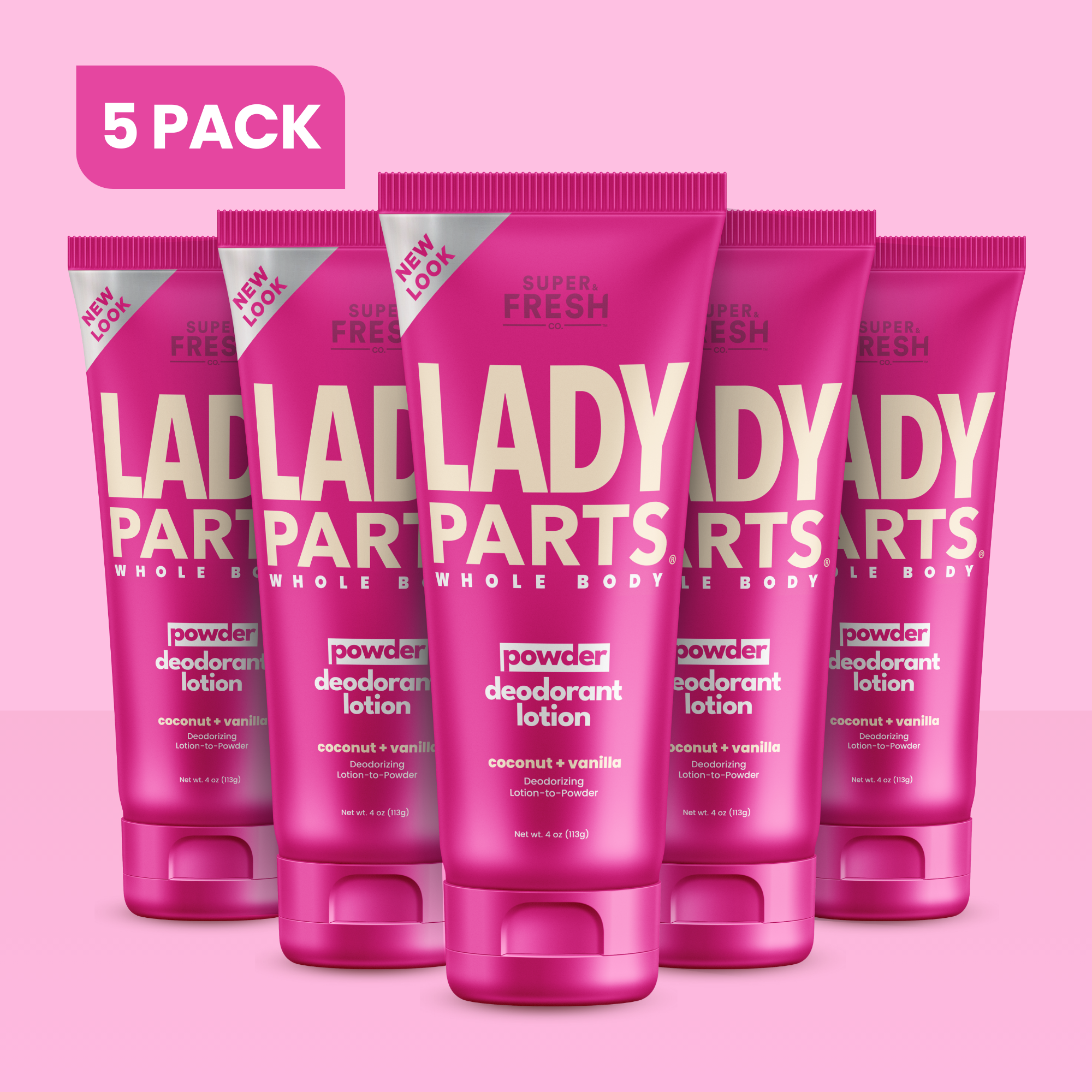 Lady Parts Deodorant Lotion - Powder - Coconut & Vanilla
---
Control Odor

Prevent Chafing

Stop Stickiness

Absorbs Sweat & Moisture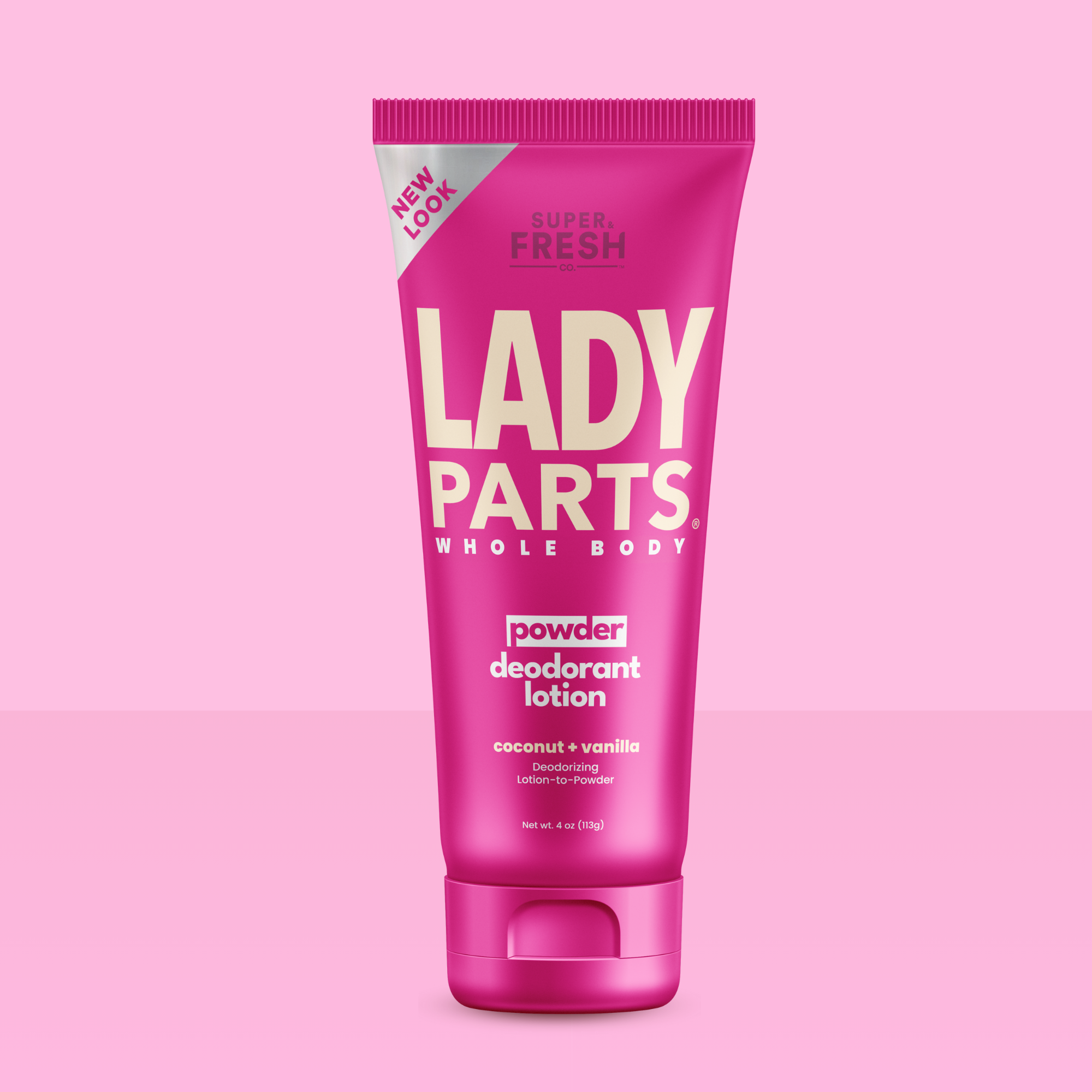 Prevent swampy, sticky, smelly lady parts.
WHERE TO APPLY

The Perfect Full Body Deodorant for Underboobs, Crotch, Butt Cracks, Skinfolds, Armpits and Other Hidden Lady Parts.
HOW TO USE

For external use only.

1) Apply to clean, dry skin.

2) Let dry to a silky powder coat. (2-3 minutes)

3) Re-apply daily or as needed.
CLEAN INGREDIENTS

• Aloe Vera: Aloe vera's natural antibacterial + antiseptic properties help rid of odor causing bacteria.

• Tapioca Starch: Extracted from the cassava plant, tapioca starch absorbs excess moisture keeping your underarms feeling dry.

• Coconut Oil (Caprylic Capric Triglycerides): Coconut oil melts into the skin effortlessly to soften, condition, + moisturize the skin.
Stay Fresh Where it Counts!
I WAS USING LUME
As soon as summer temperatures hit, however, it no longer prevented odor. So I moved on to Lady Parts & am so happy I did. Not only does it completely prevent odor but it keeps me way drier.
LOVE THE COCONUT SCENT
It's smells so good. I use it everywhere. It's better than the other deodorants. This smells better. I also bought it for my teenage daughter
I USE IT EVERYWHERE
This product is great to use in areas where you sweat, like under your breasts or for areas where your skin chafes...goes on as a lotion and dries as a silky smooth powder. Love the coconut scent!
Whole Body Deodorant
Safe and effective for full body external use, including on private parts, butt, breasts, underarms, body, and feet. Aluminum free deodorant for women designed to keep those lady parts super fresh & comfortable.
Moisturize, Hydrate, and Protect
No more bra-line break-outs or "down there" odor. Super Fresh Lady Parts body deodorant for women will keep your skin moisturized, comfortable, and smelling fantastic. Can also be used as a whole body odor eliminator for women - great for feet, underarms, skin folds, under breast, and butt crack deodorant.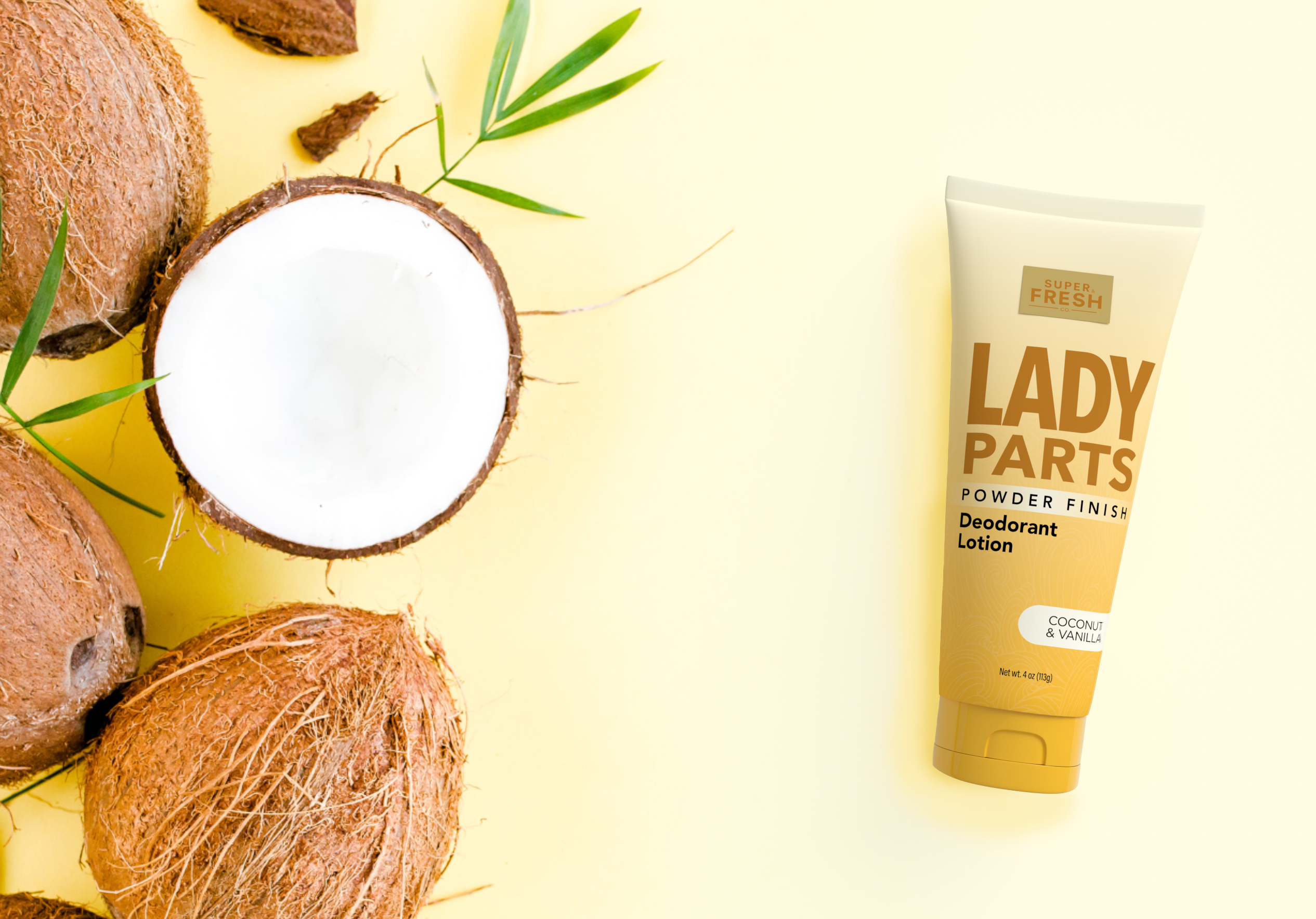 Natural Ingredients
Talc-free, aluminum-free, paraben-free, and NO animal testing. Made with natural ingredients like aloe, tapioca starch, and caprylic capric triglycerides (from coconut oil).
Hey there, let's get down to business: odor, stickiness, and chafing in those hard-to-reach lady parts? Not anymore! Say hello to your new best friend: Lady Parts Deodorant Lotion in Coconut & Vanilla. This full body deodorant is outrageously effective. It's designed with your pits, underboobs, and even your butt crack in mind. Watch it transform into a silky powder coat within minutes. Now you can smell like a tropical getaway from head to toe!
How is Lady Parts Deodorant Lotion different from other deodorants?

Lady Parts Deodorant Lotion is a full body deodorant uniquely designed to control odor at its source by targeting odor-causing bacteria. It's not just for your armpits; it's a game-changer for your butt and other sensitive areas too! Unlike traditional deodorants and antiperspirants that mask smells or control sweat glands, our lotion aims to also prevent chafing, stop stickiness, and absorb sweat and moisture. 
Is it safe for sensitive skin?

Absolutely. It's formulated with aloe vera, tapioca starch, and coconut oil. No baking soda is involved, which is often the culprit behind skin irritation.
Can men use this product?

We've got the gents covered too! Check out the Man Parts collection. Just like our Lady Parts series, it's designed to control odor, prevent swamp crotch and keep manly parts cool and comfortable.
What's the difference between Coconut & Vanilla Powder Finish and Invisible Lotion?

You get the same tropical fragrance, but the primary difference lies in their forms and application. The Powder Finish is a smooth lotion that turns into a silky powder to absorb sweat and moisture, while the Invisible Lotion is a smooth, hydrating lotion that dries clear and designed to control odor and prevent chafing. Both full-body deodorants are effective for full-body odor protection, including those tough-to-manage areas like the butt. Choose the one that best suits your needs!
How much should I apply?

A pea-sized amount is all you need. Apply to clean, dry skin and let it dry to a silky powder coat in just 2-3 minutes.
Is it vegan and cruelty-free?

You bet! All our products, including this deodorant, are vegan and cruelty-free.
Is it safe to apply this deodorant on the butt area?

Yes, it is! Our Lady Parts Deodorant Lotion and Powder is specially formulated to use on the full body, including sensitive areas like the butt. All our deodorants, including the body wipes, are designed to control odor, prevent chafing, and absorb sweat and moisture, making them ideal for application on the butt, groin, and other sensitive regions.
What are the crowd favorites in the Super Fresh line?

Looking for the superheroes of our lineup? Zip right over to our Best-Sellers section! It's like the hall of fame for freshness – where you'll find our all-star products that everyone can't stop raving about.
This product has no reviews yet.