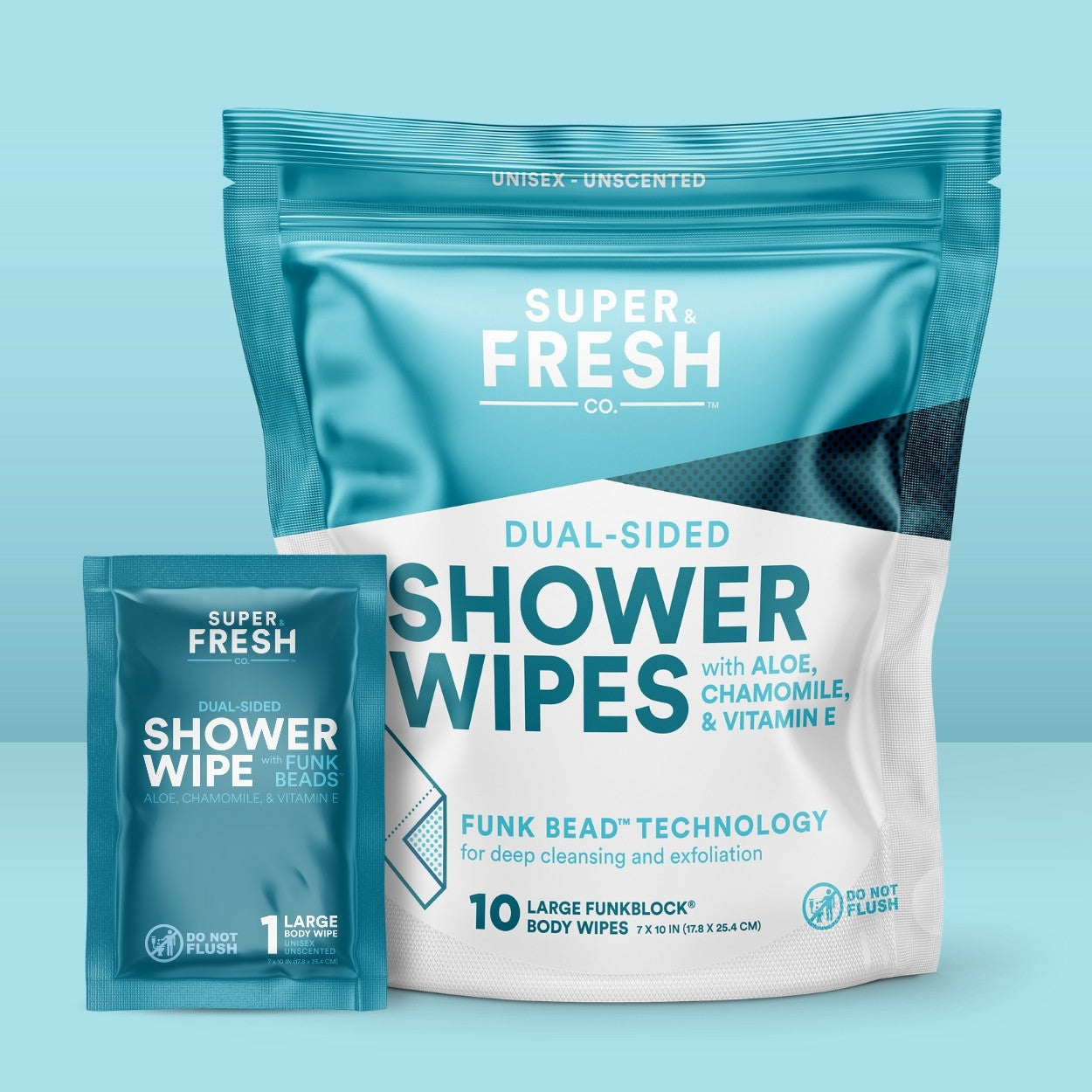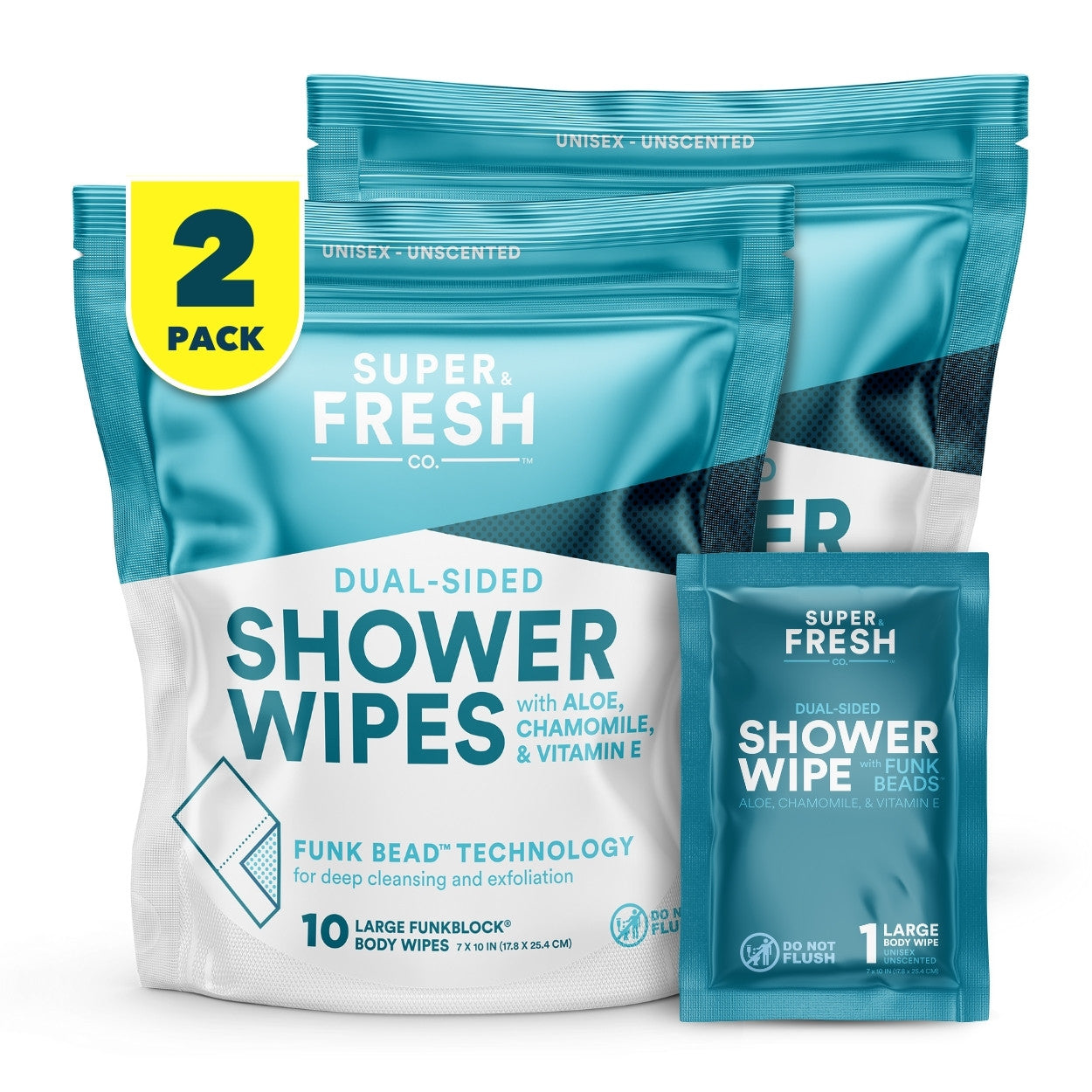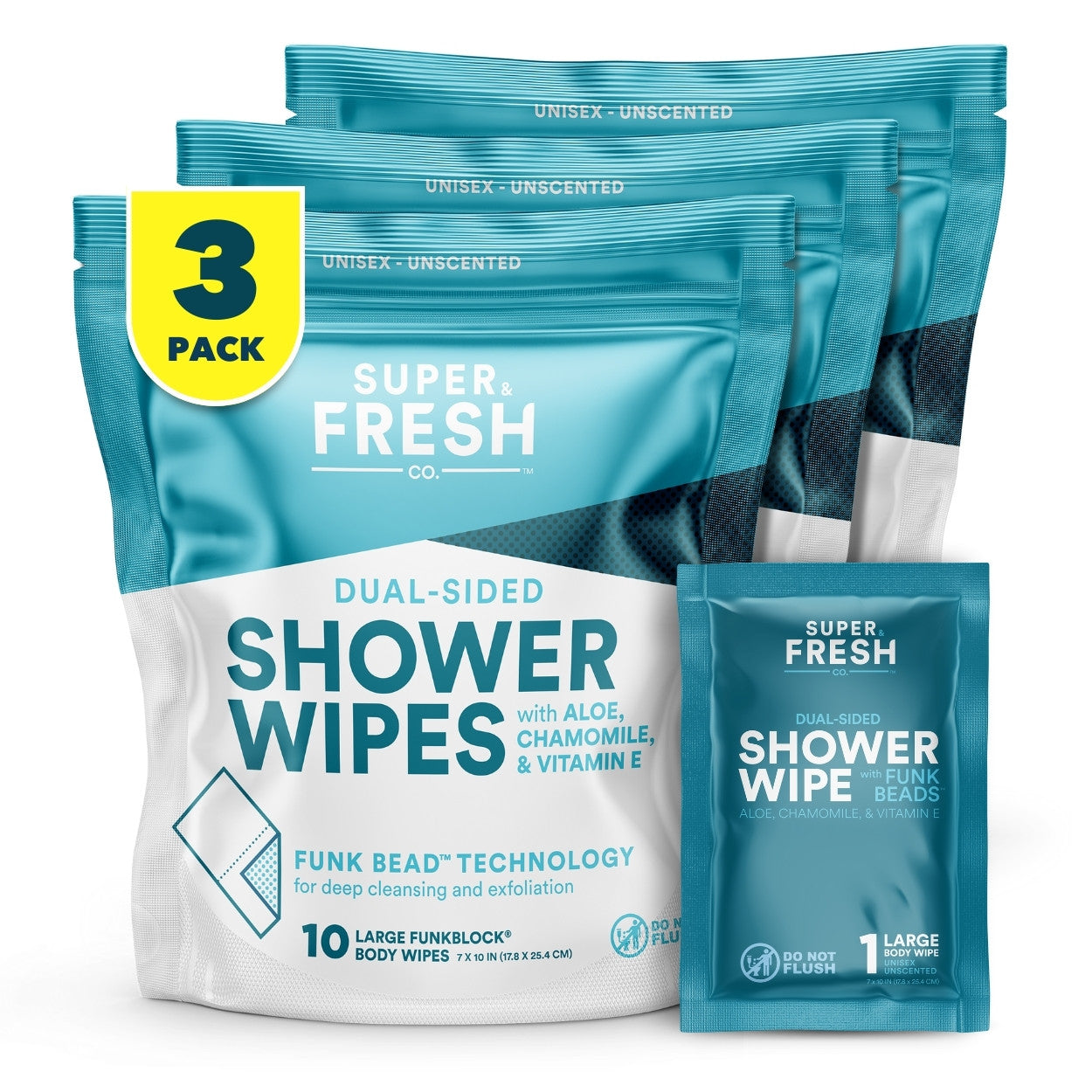 Super Fresh Shower Wipes - Dual-Sided - Unisex
---
Stay fresh and clean on-the-go
Soft Side: Smooth for sensitive body areas.
Scrub Side: Enhanced with exfoliating beads for deep cleansing.
Perfect for: camping, travel, dirty jobs, hiking and after the gym.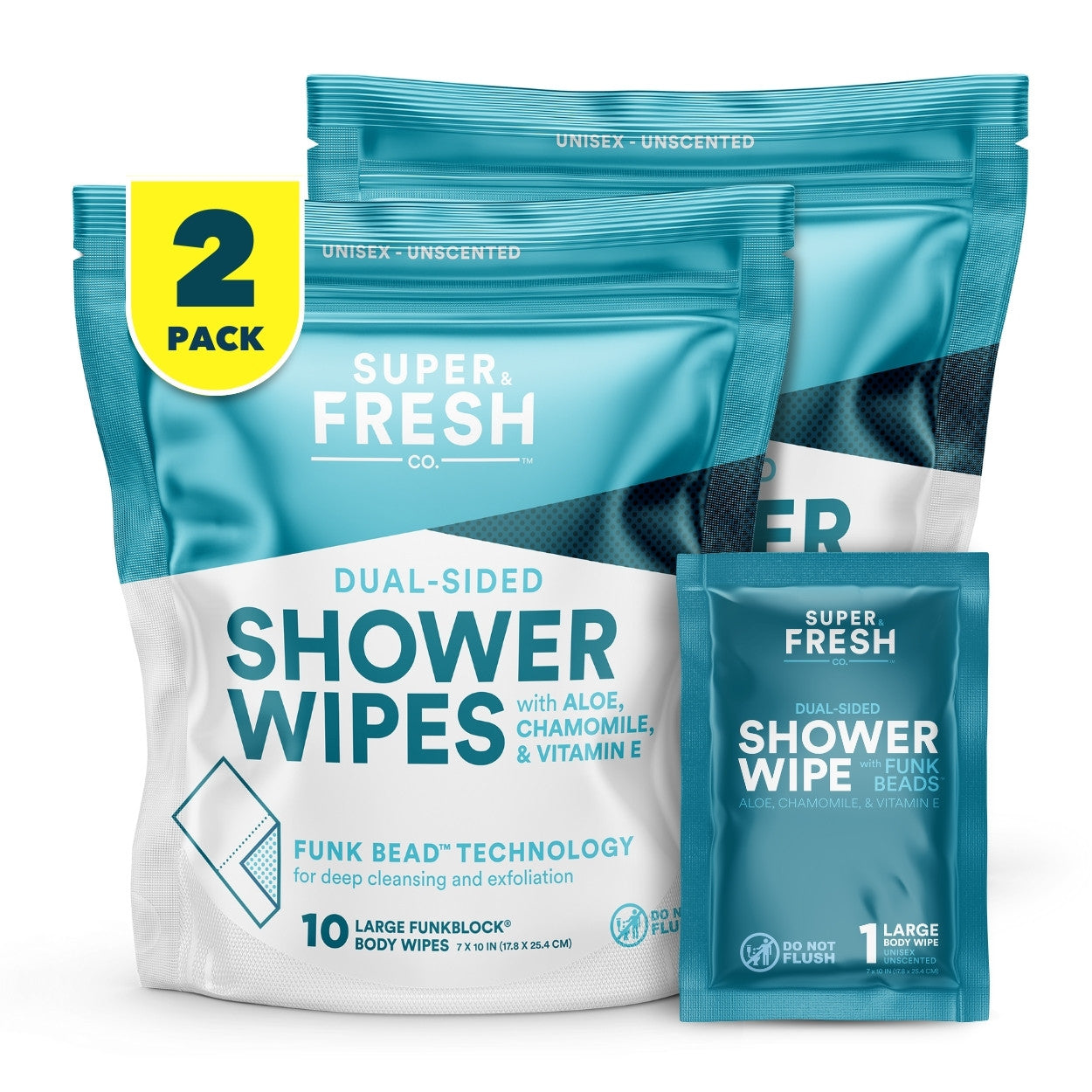 Stay fresh and clean anytime, anywhere.
HOW TO USE

Use the shower wipes to wipe on till the funk is gone.
CLEAN INGREDIENTS

Aloe Vera: Soothes, rejuvenates, and heals the skin.
Chamomile: Gently cleans and moisturizes the skin.
Vitamin E: Antioxidant that instantly hydrates and strengthens the skin's natural moisture barrier.
Customer Testimonials
GREAT FOR CAMPING
These shower wipes work great when you need to freshen up, but it's not convenient to take a shower. I bought some to take camping. They are unscented, a good size, and don't leave any kind of residue on your skin.
MAKES SWEAT & SMELL DISAPPEAR
Perfect product for a quick wipe down after soccer practice for a teenage boy! Makes the sweat & smell disappear quickly without leftover residue.
FANTASTIC BODY WIPES
These are fantastic body wipes. One side smooth, one side rough for really dirty situations, like hiking or camping. We now carry these everywhere! Useful in many situations 10/10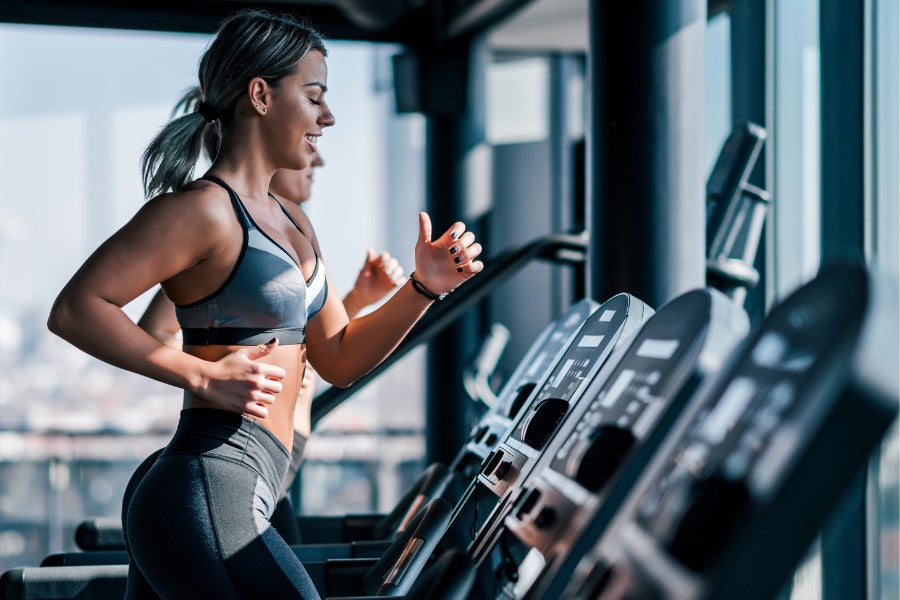 Stay Fresh and Clean
Use the Super Fresh Shower Wipes as camp wipes, gym wipes, and intimate wipes. Easy to pack, tote, or tuck away to use whenever needed.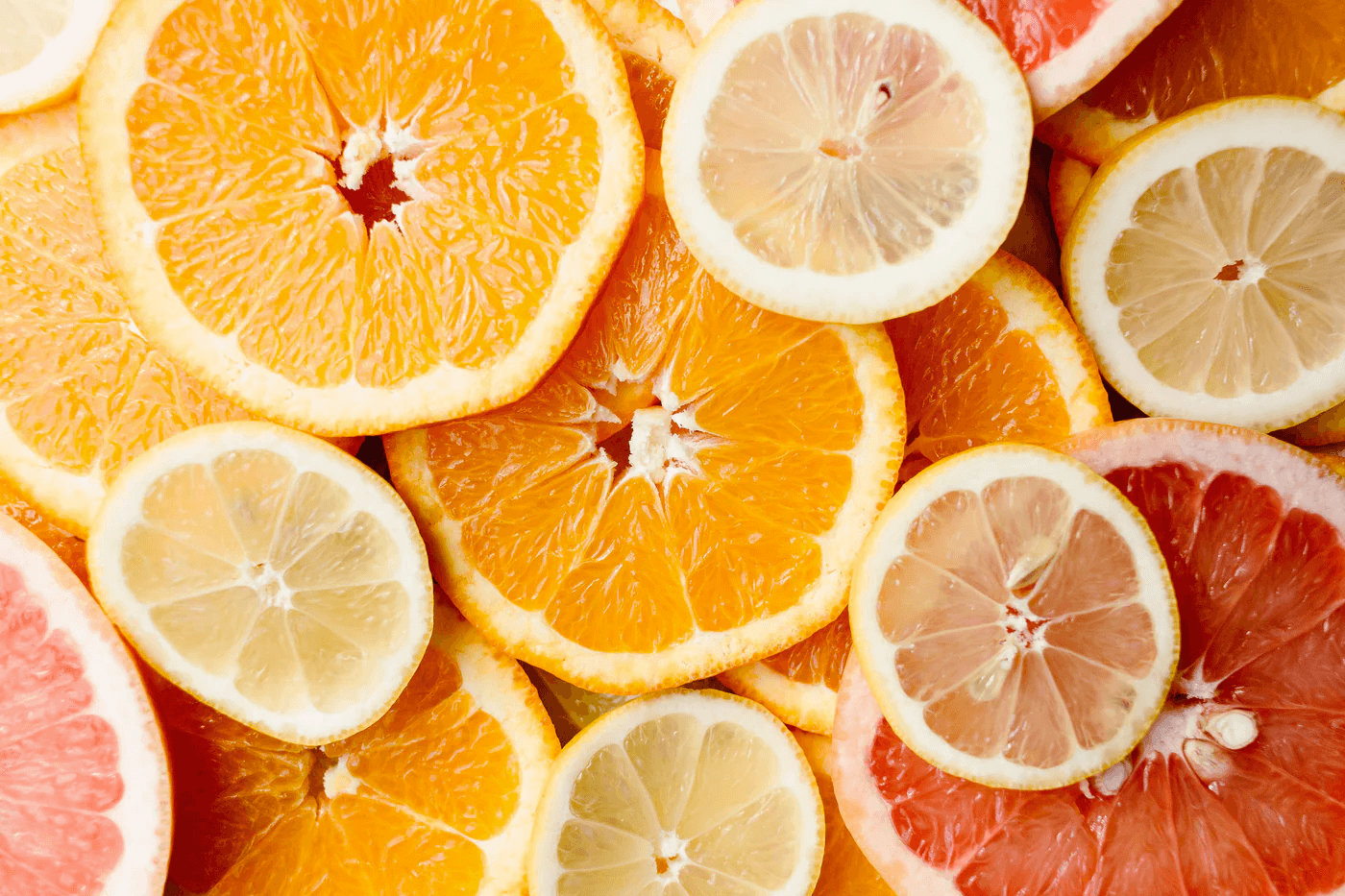 Hypoallergenic With Natural Ingredients
Skin-safe hygiene wipes with aloe, chamomile, cucumber, and vitamin E. Our large shower wipes are alcohol free, paraben free, and phthalate free.
Dual-Sided, Large Body Shower Wipes
Front side is soft and smooth. Backside for scrubbin' with "Funk Beads'' to exfoliate and deep clean. Sweat, dirt, oil, and odor don't stand a chance against these deodorizing shower wipes for women, men, and kids.
Have you ever wished for a shower on the go after the gym, during travel, or after a sweaty day out? Introducing our dual-sided body cleansing wipes, designed for the busy beauty and rugged adventurer alike. 
Gone are the days of resorting to baby wipes or face wipes that barely do the job. With our shower wipes, you'll get the benefits of a full-body rinse in just one wipe. Perfect to pack in your backpack or store in the bathroom for those rush-hour mornings.
Hitting the gym? ✅ Heading out on a jet-setting adventure? ✅ Just need a rapid refresh? ✅ These shower wipes are the ultimate game changer for every vibe. Alcohol free and kid friendly, they're the fam's new go-to for staying fresh.
Do the Super Fresh Dual-Sided Shower Wipes work as an antiperspirant?

The Super Fresh Shower Wipes are not an antiperspirant and do not contain ingredients like aluminum that stop sweat from happening. They are designed to replace a shower when you can't have one and help you feel clean and fresh on the go.
Is this product recommended for both men and women?

Yes! The Super Fresh Dual-Sided Shower Wipes are unisex, fragrance free, and packed with soothing ingredients that are safe for all skin types, including dry, sensitive, mature, young, or blemish prone.
Can you use it all over the body?

You do shower your entire body, right? These wipes work just the same. Use these cleansing wipes confidently all over your body, anytime, anywhere.
Are there any harmful chemicals in the wipes?

Our shower wipes are paraben free, talc free, and alcohol free. They're infused with aloe vera, chamomile, cucumber, and vitamin E, ensuring that they're gentle yet effective for your skin.
I love your shower wipes! Do you have other personal hygiene products I should know about?
What are the top picks from Super Fresh everyone is talking about?

Head over to our Best-Sellers section! It's a treasure trove of the products that our customers love the most. From innovative shower wipes to our signature deodorants, discover the items that keep everyone coming back for more.